The First ELaN Deliverable: Cases & Materials (Syllabus), eds. E. Stradella & G. Spanò, Pisa University Press (2020) is ready. The Deliverable includes references to cases, materials, bibliography concerning the general course on European Law and Gender (undergraduate students).
Download the full Deliverable!
Our Workshop "Gender Based Approaches to the Law and Juris Dictio in Europe" was held via MS Teams last 19th june, with the amazing contribution and participation of a huge number of young scholars. We are glad to announce that the Proceedings Book, edited by Elettra Stradella (ELaN Coordinator), is now published by Pisa University Press and an open access version is available at:
https://www.pisauniversitypress.it/scheda-libro/autori-vari/gender-based-approaches-to-the-law-and-juris-dictio-in-europe-978-883339-4565-575777.html
The book "DIRITTO E GENERE NELLA PROSPETTIVA EUROPEA" (Napoli, Editoriale Scientifica, 2022), edited by Valentina Bonini, Valentina Calderai, Elisabetta Catelani, Angioletta Sperti, Elettra Stradella (in collaboration with Federico Azzarri e Chiara Favilli) is now published.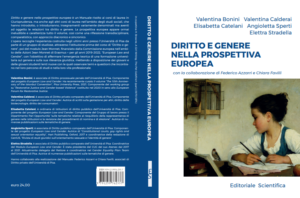 https://www.editorialescientifica.com/shop/catalogo/collane-di-diritto/manuali-per-l-universit%C3%A0-1/diritto-e-genere-nella-prospettiva-europea-detail.html